Bursary honors deceased Rotary member | New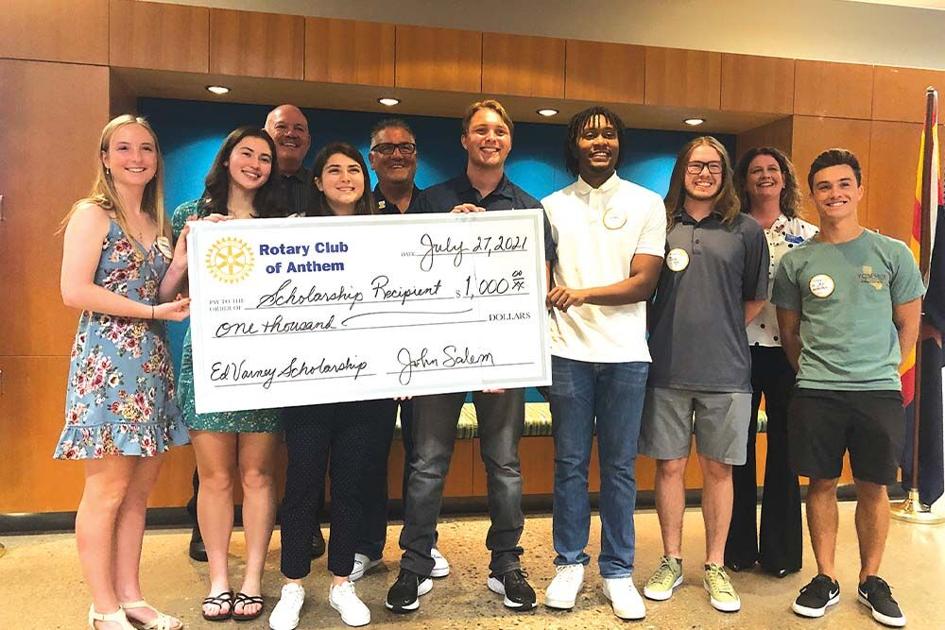 For Anthem Rotary, Ed Varney was more than a member. He was a friend and a family member.
Recently, the organization named its annual scholarship in honor of Varney – the Edward F. Varney Memorial Scholarship – who died on June 20.
"He was a dear member of the community and a long-time Rotarian," said Joseph Alvarez, treasurer of Anthem Rotary. "Ed's mission in life was education and he was truly a driving force behind our scholarship program.
A retired vendor, Varney was made aware of this honor when Rotarians visited him days before his death. Her friends read her some of the scholarship applicants' essays.
"He was very proud," Alvarez said. "You could see it on his face. "
The next day Varney died.
And, instead of giving five $ 1,000 scholarships to outstanding high school students, all 18 applicants received checks.
"Our scholarship committee, chaired by Krista Solomon, reviewed all of the applications and we were unable to separate five winners," Alvarez said. "The Board of Directors accepted the recommendation of the scholarship committee and we awarded the 18 applicants a scholarship of $ 1,000. "
The other members of the scholarship committee are Manny Chazan, Bill Temple and Bonnie Markham. On July 27, Anthem Rotary hosted a reception for the seven winners who were able to attend.
"All seven got to speak and read their essay to the public on why they thought they deserved the scholarship," he said. "It was a great time and we got to have Ed's wife, Betty, there. It was truly a great event. "
Many charities were forced to cut spending during the pandemic, but residents and neighbors of Anthem have joined Rotary to help expand its scholarship program. So far, $ 6,000 has been raised in honor of Varney and his memory for next year's scholars. Rotary will add its traditional $ 5,000 to donations.
"We want to honor more students," he said. "It's something we do every year. It's so heartwarming to listen to the stories of these amazing students – where they went to college and what they wanted to do with a living. I'm so proud to hear that there is such a large group of individuals in North Phoenix and Anthem who are going to be our next leaders.
Anyone wishing to donate to the Edward F. Varney Scholarship Fund can send a check to 3655 W. Anthem Way, Suite A109, Anthem, AZ 85086.
Edward F. Varney
Award winners
Boulder Creek High School
• Nicolas Casarella
• Mark George Soerheide
• Olivia room
• Tristan Crowley
• Emma Suttell
• Paige Loscalzo
• Benjamin Egli
• Kendra Cinotti
• Mia Maldonado
Caurus Academy
• Jordan Perry
• Anna Crandall
• Zoe Zidzik
Anthem preparatory school
• Claire Hargrove
• Elease Tewalt
• Meaghan D'Arcy
• Elizabeth Grace Marino
• Tyler Pillsbury
Sandra Day O'Connor High School
• Ryan Watson