High School Football Players Receive NFF Honors | Local businesses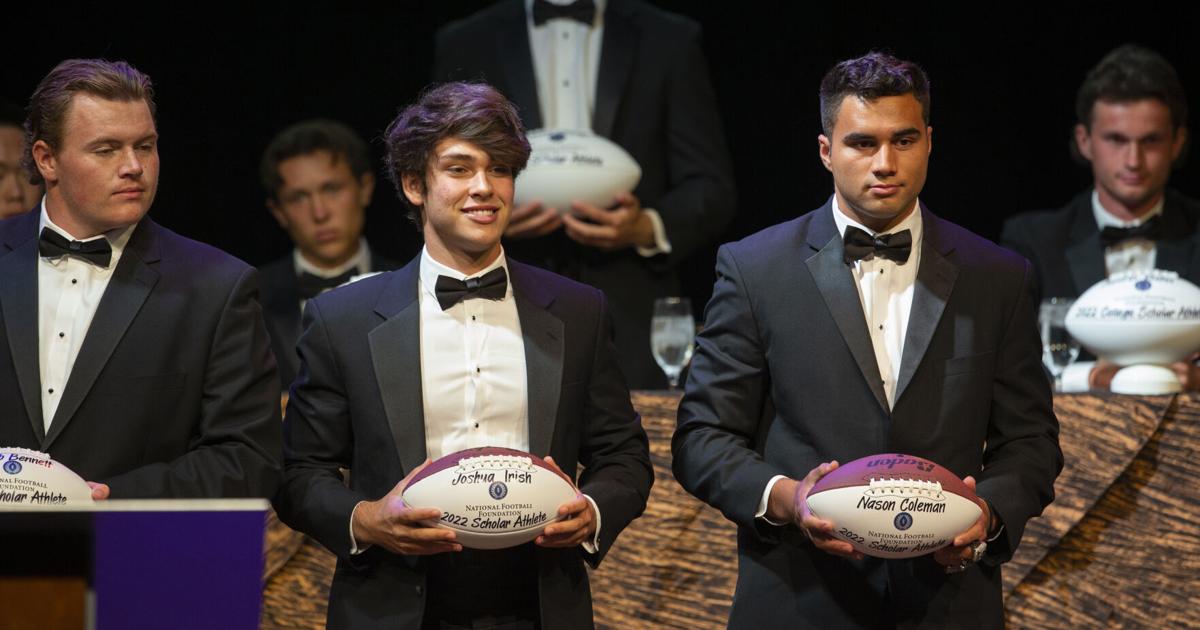 JOshua Irish loved playing football and basketball at Mesa High School.
He and his teammates moved quietly through the East Valley, finishing with a 4-6 record and just outside the playoff standings. But they have always dreamed of having the opportunity to represent their school with the greatest honor.
Irish were able to do so on Saturday April 23 at Wild Horse Pass in Chandler during the 41st National Football Foundation Valley of the Sun Varsity Athlete Luncheon. The eldest was one of 23 honored high school football players.
He was one of four named to the Fiesta Bowl Elite academy team with a staggering 4.82 GPA.
"It's good for Mesa High to put our names out there and shine a light on the school," Irish said. "We are a good program and we produce good athletes. I'm just glad I can be here to do this.
Irish's first love in Mesa was with the basketball team. But after the onset of the COVID-19 pandemic, he was keen to try football.
He discovered he had a natural talent as a wide receiver. He and the Mesa quarterbacks performed drills alone as football camps were canceled and practices were conducted without footballs to minimize the spread of the virus.
But they found a way. He became one of the team's top receivers as a junior and continued that into his senior season where he finished with 40 receptions for 468 yards and a pair of touchdowns in seven games. He was named team captain for Mesa and received 1st team all-region honors.
Irish, for now, do not plan to pursue football after graduating later this month. He is now focusing on majoring in finance at Arizona State. But even though this marks the end of his football career, he now has memories he will cherish forever.
"My senior year was so much fun," Irish said. "I loved playing with the guys and I'm so glad I did. I couldn't have done anything without my family, my coaches, my teammates. Everyone was behind me.
Red Mountain senior Ryan Grossklaus was also named to the elite Fiesta Bowl academy team alongside Irish. He currently has a 4.4 GPA.
Several other East Valley high school students were also honored, along with three local college players and three distinguished Arizonans, including AIA executive director David Hines, associate athletic director of media relations Mark Brand and coach of the longtime quarterback Dan Manucci.
Chandler schools were well represented by Arizona College Prep senior Bryce Chen, who received the Core Construction Award. Nason Coleman, a notable tight end for Chandler who battled a torn ACL that sidelined his junior season, was on hand for the event. Coleman will continue his career at BYU in the fall.
Dawson Hubbard, one of Hamilton's top defensive linemen in the state who helped propel the Huskies to national prominence last season, was also honored and will attend Butler University.
Seton Catholic senior Mattias Benally received the Native American Award from the Valley of the Sun chapter of the National Football Foundation on Saturday, while other East Valley and Scottsdale winners included Red Mountain senior Ryan Grossklaus, Joshua Irish senior from Mesa and Duke Frye senior from Notre Dame Prep, who received the Memorial Award from Coach Tom Wheatley.
Saguaro senior Miles Crutchley was the fifth recipient of the Bob and Janet Casciola Family Scholarship on Saturday. He shared the moment with teammate Thomas DeChesaro, who received the day's highest honor.
"There are a lot of really good, smart sports guys here," DeChesaro said. "It's really cool to have everyone come together for a big event like this to honor our accomplishments."
DeChesaro was named NFF Valley of the Sun Chapter Scholar Athlete of the Year. The eldest helped lead Saguaro to the Open Division State Championship last fall, beating Chandler.
Ahwatukee resident Adonis Watt who captured the hearts of the high school football community when he made his college debut in 2019 for Brophy. A sophomore at the time, he lined up against Alhambra High School and dove into the end zone from one yard.
Moments like this motivated him to pursue his dream of playing football. He received the Shaw Courage Award.
"When you find something you like, stick with it as long as you can or until you don't like it anymore, until the wheels fall off," Watt said. "That's what I do and what I will continue to do.
"Everyone has their own struggles. Mine happens to be my vision. That's how I see it."