Legba receives full college scholarship at Vanderbilt University | Local news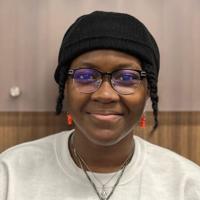 Nia Legba, a high school student from Richfield High School, was awarded a Full Academic Scholarship to Vanderbilt University through the QuestBridge National Match Scholars Program, which provides low-income students of excellent academic standing with the opportunity to earn a scholarship. complete in a large school in America. .
After acceptance into the program, future researchers rank up to 12 best schools of their choice. Each ranked school reviews applications and determines if the scholarship holder matches.
Nia was sitting with two of her friends in one of RHS's new flexible spaces when she received the notification email. "I was nervous and my hands were shaking," Nia said. "They told me to open the email, and I hesitated, then I opened it and closed my eyes. A second later, I heard a scream and saw the phrase "Congratulations, you match" on the screen. Nia and her friends started jogging around the school, telling as many teachers, family, friends and HRH staff as they could find.
At Vanderbilt, Nia plans to major in biology on the pre-med tra
Nia's advisor, Sara Linde, describes her as a determined and ambitious young woman. "Nia is a remarkably courageous student who just loves to learn."
Nia credits much of her success to teachers and staff at RHS, as well as her peers and family. "There were days when I thought I might give up because I had so much on my plate, but my support network was there to guide me through these difficult times and remind me of my talents and why I was doing that, "Nia said. . "I have so many wonderful teachers and staff to thank for bringing me here. "
In her spare time, Nia enjoys playing basketball, watching cartoons, swimming, and spending time with her siblings. Her favorite class this year is ceramics, where she enjoys creativity and the freedom to throw pots on the wheel.
As a senior, Nia thrives in her college classes while maintaining an active high school schedule filled with Upward Bound, Me to We, Green Team, and Student Wellness Council meetings.