Mexico road accident: dozens dead as truck carrying more than 100 migrants crashes in Chiapas state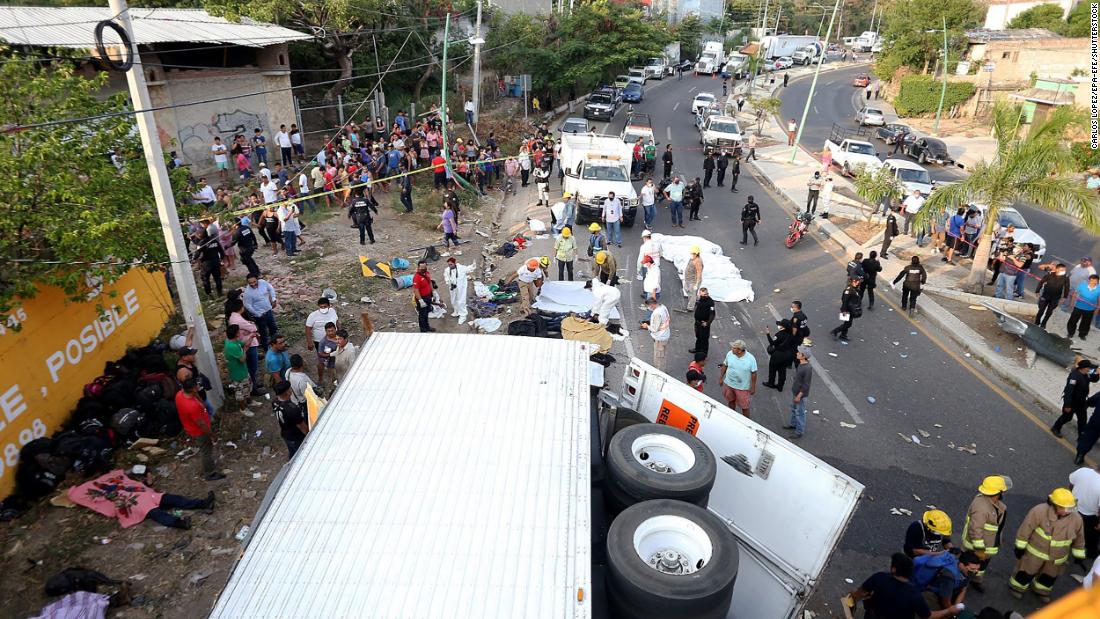 The incident took place in the Mexican state of Chiapas, which borders Guatemala, when the truck carrying dozens of migrants crashed. Photos from the scene show the truck on its side next to a catwalk and bodies lying on the road wrapped in body bags.
State Governor Rutilio Escandón tweeted that in addition to the dead, 105 people were injured in the crash, including 83 men and 22 women.
Three people are still in serious condition, according to the attorney general's office.
Mexican Foreign Minister Marcelo Ebrard said some of those who died included foreign nationals.
"My condolences to the victims and affected families. In communication with the state government and civil protection. We are making contact with the foreign ministries of the affected countries," Ebrard wrote on Twitter.
Mexican President Andres Manuel Lopez Obrador shared his condolences on Twitter.
"I deeply regret the tragedy caused by the overturning of a trailer in Chiapas carrying migrants from Central America," said the president. "It is very painful. I embrace the families of the victims."
It is not immediately clear what caused the crash or why the victims piled into the truck. However, migration is very common from Central American countries such as Honduras, Guatemala and Nicaragua, where violence, corruption, food insecurity and lack of economic opportunities have left many people behind. alternative.
The dangerous journey, often organized by smugglers, heads north through Mexico to reach the US border.
In November, Mexican authorities reported finding some 600 migrants hiding in two trailers crossing the state of Veracruz. The country's National Migration Institute said it found 145 women and 455 men in boxcars heading north towards the US border.
The US Border Patrol has arrested a record number of people for illegal crossings at the US-Mexico border over the past year. According to the International Organization for Migration, a record number of people have died trying to cross the border this year.
On Monday, the Biden administration relaunched the controversial Trump-era border policy known as "Stay in Mexico," relaunching the program that allows authorities to send non-Mexican migrants to Mexico to await their hearings before the US immigration court.
Under the Trump administration, thousands of migrants were subjected to the program, officially known as the Migrant Protection Protocols, and resided in makeshift camps along Mexico's northern border, often in squalid and dangerous conditions. .
President Joe Biden pledged to end the program and began the process of admitting migrants who had already gone through it. But a Texas federal judge disrupted those plans when he ordered the administration to revive the policy.
CNN's Priscilla Alvarez contributed reporting.