Youngkin campaign ad uses McAuliffe's words to show his stand against parents influencing schools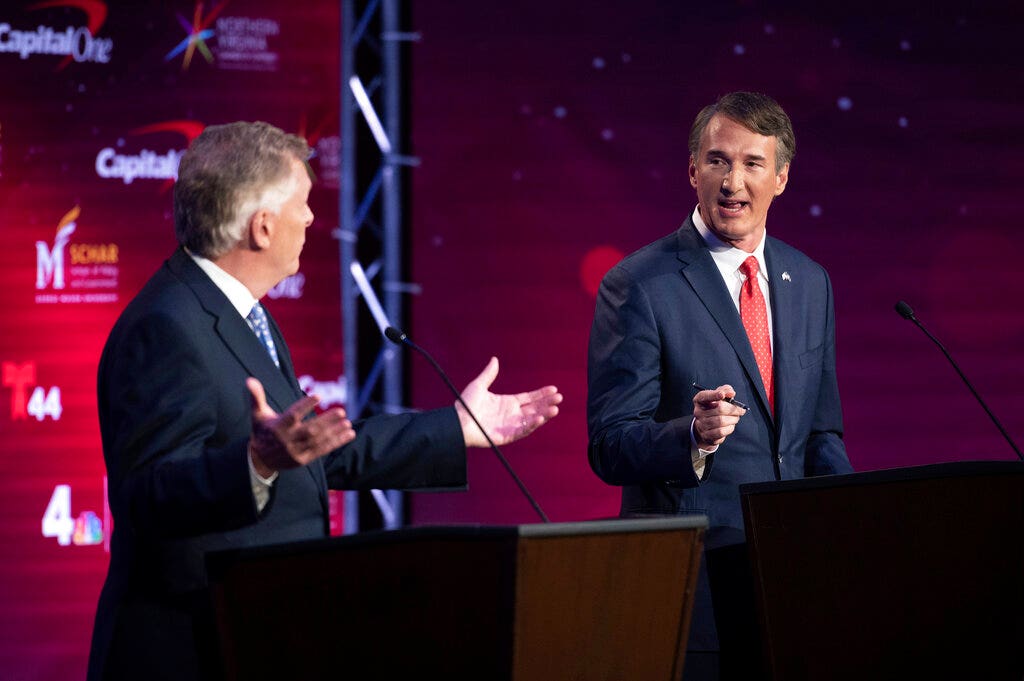 [ad_1]
FIRST ON FOX: The campaign of Republican candidate for governor of Virginia, Glenn Youngkin, applauded after his Democratic opponent Terry McAuliffe accused the Republican of "twisting" his words on education.
"Two weeks before Election Day, Terry McAuliffe is struggling to save his campaign," Youngkin spokeswoman Macaulay Porter told Fox News. "After 3 weeks of confirming more than half a dozen times that he meant exactly what he said in the debate, McAuliffe was ordered from panicked DC Democrats to stop churning out anti-screeds. -parents."
"But it's too late – Terry showed us his heart," Porter added. "That's what he believes. His attempt to cheat on the Virginians is pathetic, and the parents know the truth because the videos don't lie. Terry will have to answer for that in two weeks on Election Day."
MAJORITY OF VIRGINIA'S PARENTS WANT TO PARTICIPATE IN THE EDUCATION OF THEIR CHILDREN, ACCORDING TO FOX NEWS SURVEY
Youngkin launches an ad showing footage of the seven times McAuliffe said he didn't want parents to determine what schools teach their children. The ad, which the campaign provided exclusively to Fox News, uses images of McAuliffe's own words to clarify his position.
Earlier Monday, the McAuliffe campaign posted an ad claiming the Republican had "taken my words out of context" on the issue.
LOUDOUN COUNTY PARENTS DEMAND THE RESIGNATION OF A SUPERINTENDENT FOR ALLEGED SEXUAL ASSAULT IN SCHOOLS
"I won't let parents go into schools and get books out and make their own decision," said McAuliffe, who served as governor of Virginia from 2014 to 2018, said during a debate in September. "I don't think parents should tell schools what to teach."
A recent Fox News poll found that 57% of parents in Virginia said parents "should tell schools what to teach."
The education debate has come to a head in Northern Virginia, where parents have gathered in droves to voice concerns about COVID-19 policies, transgender policies and critical race theory, a framework that involves deconstructing aspects of society to uncover "systemic racism" beneath the surface. Some parents called the CRT a divide, saying it encourages white students to see themselves as oppressors.
Parents from Fairfax and Loudoun counties spoke out at school board meetings, garnering national attention. Parents in both places have complained about sexually explicit books in libraries, mask warrants for children in school, and "fairness" trainings parents say they instill at CRT.
CLICK HERE TO GET THE FOX NEWS APP
Parents in both places also protested Attorney General Merrick Garland's directive to the FBI to investigate what the Justice Department called a "disturbing trend" of "threats of violence" at school board meetings.
[ad_2]